Using INFLCR as our centralized location to share content with players has saved us time and enhanced engagement with and access to our team content. INFLCR's automation tools and AI enable us to proactively deliver the high-quality pictures and videos our players want while improving the process for our staff.
After the successful implementation of Teamworks Hub, the extension of our partnership to include INFLCR was another positive step forward in unlocking efficiencies. INFLCR helps maximise the reach and quality of the brand experience by empowering everyone within the organisation to become content creators.
We're finding that our young players have used either INFLCR or similar platforms at previous teams and understand how to use it efficiently. It's also helped our hockey and support staff know where to direct players when they ask for photos, videos, etc. so we aren't inundated with requests around the clock.
Already a Teamworks Hub Customer?
The integration with INFLCR allows your athletes to receive notifications and access all your great content through Hub, the one app they already use every day!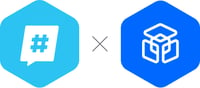 *Integration not currently available in all regions, but more will be added at a later date.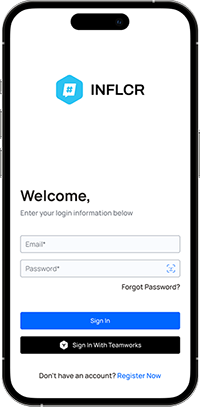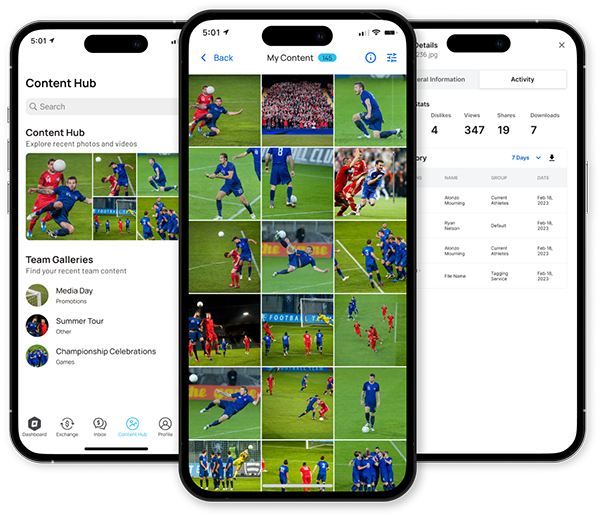 Build Your Brand, Engage Fans
Quickly and easily get team-approved photos and videos into the hands of your athletes and ambassadors to share on their social networks. Reach and engage more fans with fun and authentic content from their favorite players.
Provide athletes with a single, intuitive, and self-service app to access individual and team photos

Use AI to automate the delivery of your content

Streamline the process for athletes to share content on their networks

Track the growth of athlete and team social media metrics, including TikTok, with personalized reports



case study



Seattle Kraken
See how INFLCR has improved operational efficiency and enabled unprecedented brand growth.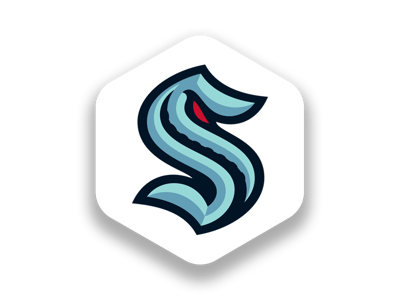 "INFLCR made getting photos very easy. It's nice having them all in one place, accessible anytime, and connected with Teamworks Hub."
"Having real-time access to post-game photos and content fed into my Teamworks app through INFLCR is a game changer."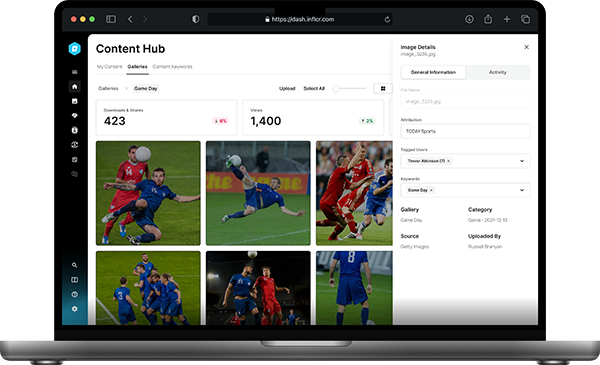 Streamline Operations
Requests for content from players, PR, Community Relations, and more can now be handled proactively and efficiently. Need something new? Quickly send requests to players or ambassadors.
Easily upload, organize, and tag your photos and videos and streamline distribution

Send in-app requests for content creation

Provide brand, marketing, and other groups with access to the digital archive

Simplify onboarding and roster management with the Teamworks Hub integration

Identify the most popular and engaging content
Save Time with AI
Let INFLCR's facial recognition and jersey tagging features do the organizing for you.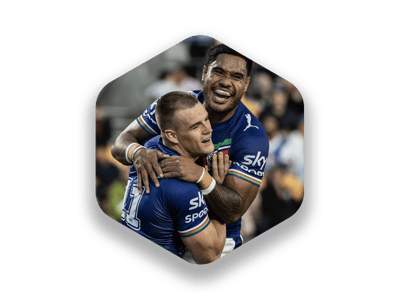 case study



New Zealand Warriors
Learn why the Warriors chose INFLCR to help athletes build their personal brands.
AI-Powered Content Management System
Central and secure repository with robust tools to organize, tag, and search your photos and videos.
Integration with Teamworks Hub
Engage players with your content within Hub, a familiar app they use every day. Save time by accessing current team rosters to manage users and content access.
Campaigns
Create campaigns within INFLCR to easily request and collect content to fulfill the needs of marketing, PR, community relations, alumni foundations, and more.
Analytics
Understand what content is most engaging, which athletes are your most influential, and track the growth of team and athlete social metrics.
Integrations
Streamline your process by connecting INFLCR to popular content tools.


INFLCR Exchange (Add-On)
Ready to take the next step in the influencer journey? Use INFLCR Exchange to create a network of local and national brands looking to partner with your athletes.
INFLCR's platform provides our marketing team an easy way to upload content our players and coaches can use on their own social channels. In turn, they can find the best way to amplify that content on their own platforms, monitor their social metrics, and participate in our marketing campaigns all in one easy-to-use platform.
Our main goal is to provide our athletes, coaches, and staff with tools that help them do their jobs better both on and off the ice. INFLCR provides this in a platform they are comfortable with and also in a way that is easy to use. I see it being an important part of our future for a long time.
Provide New Revenue Opportunities
Using the INFLCR Exchange, give your players an easy way to connect with local and national brands for sponsorship opportunities and access to resources designed specifically for professional athletes.